TINS 2006
Maybe this helps some people navigate through this page.
TraIN Shooter
The entry for the TINS 2006 compo was again created together with Deathlord. After the rules were announced we started designing a game. And our design was not very good from the beginning, but we noticed this very late, too late to change anything. We also thaught we could get our entire concept done within the timeframe of the competition, but some unexpected events destroyed our plans.
The first event were Deathlord's programming skills. He hadn't programmed for a while and made some mistakes that kept us from doing anything else for several hours, until we had tracked them down and fixed them.
The other thing was motivation. During the competition, we more and more lost interest in the game because we realized that it was not as much fun as we had thaught.
In the end, we made a game that has maybe 10 minutes of gameplay that are entertaining at least a little bit. But the game is far below our expectations, mainly because all of the interesting gameplay aspects we had planned hadn't made it into the game.
Download
You can read all progress blog entries we wrote during the competition, or download the game. You might want to view this screenshot before downloading.
Final Contest Results
Lets start right away with a link to the results: Average rating table
As you can see, there's large difference in the different categories. While we scored good, almost perfect, in Artistical and Technical we are only average in the Overall and Genre categories.
By calculating the average rank of each entrant and comparing these values, the MLSoft entry is placed even placed 4th. I had never dreamed of a 4th place when we turned our entry in, because it was so unfinished and all, but it seems like my concerns were unnecessary.
This are the best results I ever achieved in any SpeedHacking competition, that's a big motivation to take part in future compos and improve my score :)
Screenshot
Below is a screenshot, that shows our definition of "ascii-art":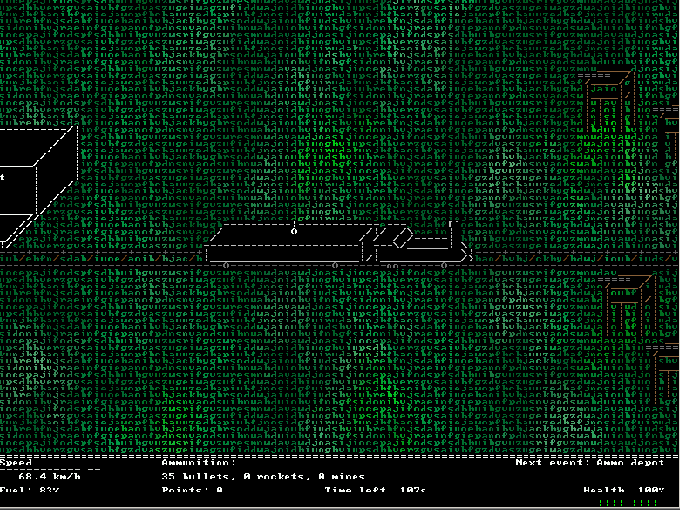 Artistic Requirements
Just for the sake of completeness, the rules of TINS '06:
"Time" should be the theme of your game.
the game should feature (a) railway(s) and / or train(s).
Provide a help function, that can be accessed during the game.
Provide a good example of ascii-art.
Oh, and the name of the game was chosen because I wanted to have a name that contained the letters TINS.